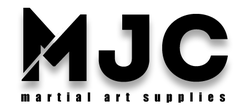 Welcome to Our Store
Welcome to our new store! Thank you for taking your time to visit our online shop. Here is some information that may help you know more about us and our products.
MJC Martial Art Supplies Ireland is the sole distributor of martial arts brands & products in the Republic of Ireland. MJC Martial Art Supplies provide a range of products. We provide World Taekwondo Approved products, Karate products, as well as ITF products and a whole range of martial arts training aids.
Tusah is a new brand setting the standards in Taekwondo equipment, uniforms, training aids and footwear. Tusah has been approved on all their products by World Taekwondo. Made in Korea at a very high standard for comfort and performance.    
Some facts about MJC Martial Art Supplies in Ireland:
MJC Martial Art Supplies is an Irish based company 
We sell World Taekwondo approved uniforms and equipment
We are located in North County Dublin
Our company was founded in 2016
Our team has over 30 years experience in martial arts
Contact number: 01 802 9758 | 9.30 am - 5.00 pm
Contact mobile: 087 746 7666 | After Hours
---